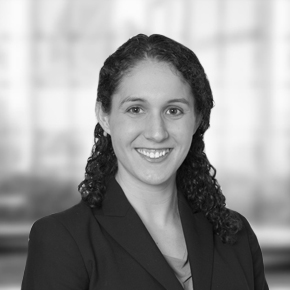 Courtney Hostetler
Employment Law
Courtney frequently represents clients who have been discriminated against because of their gender, race, national origin, or sexual orientation. She helps clients understand their claims and assess their options. In cases where clients want to leave their employment, she helps to negotiate separation agreements and severance packages. She also pursues cases through to litigation, both in administrative agencies like the Massachusetts Commission Against Discrimination, and in court. As a member of the Massachusetts Employment Lawyers' Association she has helped draft "friend of the court" briefs to educate the appellate courts on important legal issues related to discrimination.
Outside of the context of discrimination, Courtney also advises clients on a variety of workplace issues, including whistleblowing, interpersonal conflicts, and investigations.
Criminal Law
Courtney is a strong advocate for her clients who face criminal charges. She rigorously researches and prepares for each case. She has successfully represented clients at "show-cause" hearing before clerk magistrates, helping to prevent criminal charges being brought against her clients. She has helped clients avoid being charged with a variety of offenses, including harassment; restraining order violations; malicious destruction of property; and housing violations. Courtney will work with the prosecutor and court to resolve cases where doing so is in the client's best interest, but she also will work to bring a case to trial where prior resolution is not possible. Courtney also is able to assist clients whose property is subject to civil forfeiture proceedings.
Campus Misconduct Charges and Student Rights
Courtney has represented university students and professors who are accused of misconduct, including plagiarism, assault, vandalism, sexual assault, and intimate partner violence, and investigated by their institutions. She represents these clients during initial investigations and throughout the appeal process. These investigations are sometimes complicated by concurrent criminal charges, and—in the case of professors—employment issues. In these multi-faceted cases, clients benefit from Courtney's experience in handling interrelated school, criminal, and employment matters. Where possible, Courtney seeks to exonerate her clients, but she also works with clients and their institutions to agree to lessen sanctions. Courtney has been successful even in overturning decisions that have already been made against her clients; in a recent case Courtney represented a student found responsible for plagiarism and the school ultimately rescinded its finding of responsibility.
Prior Experience
Prior to joining the firm, Courtney was a Yale Public Interest Fellow at the American Civil Liberties Union of Massachusetts (ACLUM). While at the ACLUM, Courtney focused on issues of students' rights, academic discipline, and disparities in the treatment of students of color and students with disabilities in Massachusetts public schools. In that capacity, Courtney represented a student who was unlawfully expelled from school and faced discrimination on the basis of race and national origin, securing an agreement under which the student's discipline record was expunged and he was allowed to return to school. In addition, Courtney worked closely with several school districts to overhaul their discipline policies and practices and she assisted students who were unlawfully punished for asserting their free speech rights under the First Amendment and the Massachusetts Student Freedom of Expression Act, negotiating with schools to revise their speech policies. She also served as an attorney on a criminal case being appealed before the First Circuit Court of Appeals.
During law school, Courtney served as an executive editor on the Yale Journal of International Law and was selected as an associate fellow for the Yale World Fellow program. She was a student leader of the Yale Legal Project Assisting the Extraordinary Chambers in the Court of Cambodia, and worked with the school's International Human Rights Clinic, Civil Liberties and National Security Clinic, the Complex Federal Litigation Clinic, and the Human Rights and Detention in the United States Clinic. During law school, Ms. Hostetler interned as a Trial Chambers clerk for the International Court for the Former Yugoslavia and at the Constitutional Accountability Center, where she helped draft an amicus brief to United States Supreme Court in Williamson v. Mazda Motor of America.
Prior to law school, Courtney worked as the project manager for the First Vote Project at the Close Up Foundation and as a research analyst for the Genocide Intervention Network, where she focused on corporate social responsibility for companies operating in Sudan and South Sudan.
Education
J.D., Yale Law School, 2011
M.Phil, University of Oxford, 2007
B.A., Colgate University, 2004
summa cum laude, Phi Beta Kappa
Bar and Court Admission Commonwealth of Massachusetts
U.S. Appeals Court, Fifth Circuit

Clerkship
Justice James L. Dennis, United States Court of Appeals for the Fifth Circuit, 2011-2013
Professional Affiliations
Massachusetts Association of Criminal Defense Lawyers
Massachusetts Employment Lawyers Association
Boston Bar Association