Katherine E. Dullea
Associate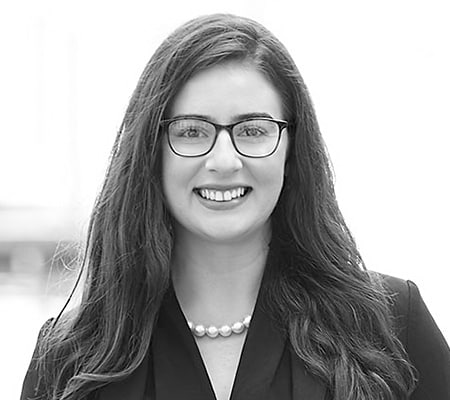 Introduction
I assist supervising attorneys in state and federal criminal cases, employment negotiations and litigation, and student rights and Title IX matters. My work focuses on criminal matters, inequities in the criminal legal system, and dismantling the cradle-to-prison pipeline.
Practice Focus
I joined Zalkind as an associate after graduating from Northeastern University School of Law in 2020. Prior to that, I worked as a legal intern for Zalkind as well as another Boston litigation firm, where I worked on both criminal matters.
I completed two public interest internships at local legal services organizations, where I assisted supervising attorneys in preparing for special education and academic discipline proceedings, prepared immigration applications, and prepared and filed documents for various family law proceedings.
While in law school, I completed an independent research project critiquing SESTA-FOSTA (a new federal law regarding sex trafficking) under the supervision of Professor Aziza Ahmed. I also contributed research and analysis to the Center for Public Interest Advocacy and Collaboration's BBA-funded project to map points of intervention in the cradle-to-prison pipeline. Additionally, I conducted research about intersecting forms of oppression experienced by the most marginalized members of the LGBTQIA+ community.
Prior Experience
Prior to law school, I managed customer-facing operations at a custom jewelry start-up company. I also previously worked as an IT risk advisory associate at an audit, tax, and consulting firm.
Speaking & Publishing
Co-author, "Pandemic Lays Bare Inequities Inherent in the Bar Exam," Law360 (2020)
Why I Became a Lawyer
For me, being a lawyer is a form of service – both to the clients that I directly represent and the public as a whole – to help those who have to live by the laws that attorneys are actively shaping and challenging every day. I am a passionate and empathic advocate, and I became a lawyer so that I could provide my clients with the best representation while challenging the daily injustices that they face from the criminal legal system, in the workplace, and in school.
Education
J.D., Northeastern University School of Law, 2020
B.S., Boston College, 2015
Presidential Scholar
Bar & Court Admissions Commonwealth of Massachusetts