Ruth O'Meara-Costello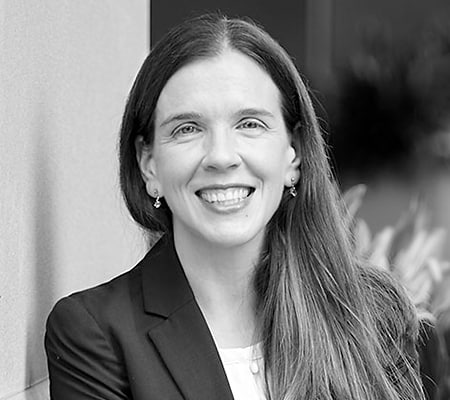 Introduction
I represent clients in criminal defense, Title IX, and employment law matters. I am committed to providing thoughtful and effective advocacy for my clients, with the recognition that many people who need help in these areas are going through some of the worst times in their lives. I am proud to have helped many people through extremely difficult situations and to have achieved victories for my clients both in and out of court.
Practice Focus
Title IX and Campus Discipline
My commitment to individual rights and to due process informs my work with university students and faculty facing disciplinary action at their universities. My experience handling criminal sexual assault cases complements my work representing accused students, and allows me to provide comprehensive legal representation to the students and faculty members I represent. I have represented more than sixty clients accused of sexual misconduct (sexual harassment or assault) at colleges and universities in Massachusetts and nationwide. I have won many cases by bringing a well-developed strategy to each case and helping my clients to marshal evidence and arguments to convince campus hearing boards or investigators of their innocence. I also assist students and faculty accused of other university disciplinary violations, including plagiarism and academic dishonesty.
I represent clients already found responsible for disciplinary violations in internal appeals at their academic institutions and have convinced many colleges to grant my clients new hearings or reduce the penalties against them. I have litigated cases in federal court on behalf of my clients when schools have violated their rights to fair and unbiased disciplinary processes. I have also brought complaints to the Department of Education's Office for Civil Rights for clients who experienced discrimination in disciplinary matters. Because of my background in employment law, I am well-situated to represent university faculty and staff in discrimination and sexual misconduct matters.
I am recognized as a thought leader in Title IX law, and frequently write about legal issues in campus disciplinary proceedings and provide my expertise to the press on these matters.
Criminal Defense
My criminal defense practice encompasses trials and appeals in both state and federal court, and I have represented defendants on a range of charges, including murder, stalking, attempted rape, fraud-related offenses, drug possession and conspiracy, assault and battery of a family member, assault and battery of a police officer, rape of a child, perjury, violation of a restraining order, driving under the influence of alcohol, reckless driving, trespassing, leaving the scene of an accident causing personal injury, unlicensed taxi operation, vandalism, disorderly conduct, armed assault with intent to rob, and breaking and entering. I am a member of CPCS's post-conviction panel and of the First Circuit's Criminal Justice Act appellate panel, taking appointed appeals in state and federal criminal cases.
I have secured favorable dispositions for many clients short of trial or even before charges were brought. Working with clients and their families and friends to craft powerful sentencing presentations, I have persuaded many judges to impose the sentence my client requested. I have successfully prevented the issuance of a complaint in numerous show-cause hearings. I also have convinced judges to dismiss charges against my clients, including in cases where they were denied the right to a show-cause hearing or where evidence presented to a magistrate was insufficient to justify the issuance of a complaint. I have convinced courts to return my clients to probation, avoiding jail time, following even repeated probation violations.
Employment Law and Civil Litigation
I represent plaintiffs subjected to discrimination, retaliation, sexual harassment, unequal pay, or other violations of their workplace rights in litigation in the state and federal courts and before the Massachusetts Commission Against Discrimination (MCAD). I also frequently work with employees behind the scenes to help them handle difficult situations at work and preserve their employment or achieve settlements without any litigation. In a 2015 trial, Inga Bernstein and I convinced a jury that an employer had violated the Massachusetts Equal Pay Act by paying her less than a male employee doing the same job. I have secured significant settlements for numerous clients short of trial.
I have represented many university faculty members in court, before the MCAD, and in campus disciplinary proceedings. In one significant case, Inga Bernstein and I successfully defended a female professor's gender discrimination claims against the university's motion for summary judgment. While most of my employment practice is representing plaintiffs, I have represented several individual defendants accused of sexual harassment or workplace misconduct, and have convinced the MCAD to find a lack of probable cause regarding the allegations against my clients in multiple MCAD cases.
Prior Experience
At Harvard Law School, I was a member of the Harvard Legal Aid Bureau, where I represented clients in domestic relations cases and before the Department of Unemployment Assistance. I was a member of the editorial staff of the Harvard Journal of Law and Gender and a board member of Students Organized for the Prevention of Domestic Violence (STOPDV). Before becoming a lawyer, I was a recipient of the Michael C. Rockefeller Fellowship.
Professional Activities
Executive Board Member, Massachusetts Criminal Defense Lawyers Association (MACDL)
Member, Massachusetts Chapter of the National Lawyers' Guild's Mass Defense Committee
Accolades
Best Lawyers in America

Education Law (2020 - 2021)

Super Lawyers

Criminal Defense (2021)
Rising Stars (2017 - 2020)
Education
J.D., Harvard Law School, cum laude,, 2006
A.B., Harvard College, cum laude,, 2002
Bar & Court Admissions Commonwealth of Massachusetts
U.S. District Court, District of Massachusetts
U.S. Court of Appeals, First Circuit

Clerkship
Chief Judge William K. Sessions, U.S. District Court for the District of Vermont, 2006-2007
Professional Affiliations
Massachusetts Association of Criminal Defense Lawyers
Board Member (2017-present)
National Association of Criminal Defense Lawyers
Boston Bar Association