Zoraida Fernandez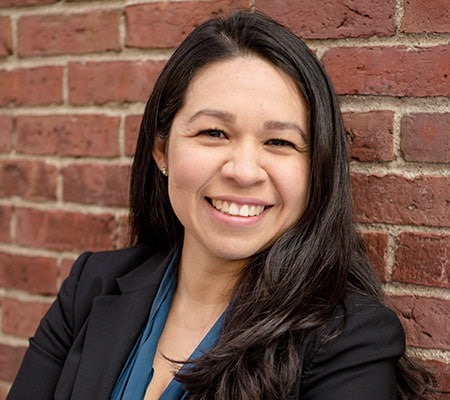 Attorney Zoraida Fernandez practices criminal defense and civil litigation. Zoraida understands that clients come to her when they are in crisis, whether it's because they are facing criminal prosecution, are at risk of losing or have lost their jobs or have otherwise been deprived of their civil rights and liberties. Her clients' goals are of paramount concern and dictate the strategy and approach in each of her cases. In 2018, Zoraida was selected to the Rising Stars list by Super Lawyers.
Criminal Defense
In her criminal practice, Zoraida represents people accused of a wide range of crimes and in various types of proceedings in state and federal courts throughout the Commonwealth.
Zoraida fights hard to achieve results consistent with her clients' priorities, whether that is to take the case to trial, or to resolve the matter more quickly through agreement. For instance, she has had success recently securing dismissal of charges for clients charged with assault and battery on a police officer and resisting arrest, another accused of driving while under the influence of drugs, and a client accused of sexual assault against a minor. Zoraida tried a felony sexual assault case in which the jury acquitted her client of all sexual assault charges. Where there is a conviction, Zoraida has been instrumental in obtaining favorable sentences for clients, including one facing serious felony charges of conspiracy and extortion in federal court, despite his being classified a career offender.
Zoraida has also helped clients prevent criminal charges from issuing. She represents clients at "show-cause" hearings before clerk magistrates, helping them avoid having any criminal charges on their record. She has avoided the issuance of criminal complaints against her clients involving misdemeanor charges, like assault and battery and negligent operation of a motor vehicle, and more serious felony charges, like malicious destruction of property. She has also advised clients allegedly involved in criminal activity and helped them avoid any police involvement or criminal prosecution.
In addition to her criminal trial practice, Zoraida helps clients deal with the consequences of criminal charges and convictions. She helps clients seal and expunge records of arrests, dismissed charges, and convictions, making these inaccessible by the public, including many prospective employers. Zoraida also represents people seeking to challenge serious criminal convictions (particularly where there are immigration consequences involved), people who have been accused of violating the terms of their probation, and clients who seek early termination of probationary terms.
University Discipline
Zoraida represents students accused of academic and sexual misconduct on college campuses, and students who have experienced harassment or discrimination in their education environments. Although these proceedings are not court cases, the potential consequences for college students, for example, suspension or expulsion, can be devastating and long lasting. For students accused of sexual misconduct, these Title IX cases require careful analysis because of the possible criminal implications. Zoraida uses her criminal defense experience to develop a strategy, present innovative factual and legal theories, and protect her clients in case of criminal prosecution.
Academic misconduct cases can also have similarly life-changing consequences, which is why Zoraida approaches these cases with the same seriousness and thoroughness as her criminal cases. Recently, she obtained favorable results for clients at different college campuses facing accusations of serious misconduct on college campuses, which allowed them to continue their studies without a blemish on their academic records. In another case, she represented a law student who had been expelled for cheating on an exam. She and a team of other firm lawyers presented an innovative legal theory that resulted in the student returning to law school and graduating.
Employment Law and Other Civil Disputes
Zoraida's civil practice includes litigation and counseling of employees who come to her when their livelihoods are at stake. Her clients have included employees facing gender and race discrimination, and retaliation, and she also helps people struggling with a workplace that subjects them to sexual harassment, discrimination, or other unfair and illegal employment practices.
Zoraida works to resolve her client's cases as early as possible to achieve the results the clients want, and often successfully negotiates settlements or mediates disputes between her clients and their employers. When early resolution is not possible, Zoraida litigates cases at the Massachusetts Commission Against Discrimination ("MCAD"), and in court. Recently, she helped negotiate a six-figure monetary settlement for a woman who worked in a male-dominated department in a state agency and who had, for years, struggled with discriminatory practices involving her pay, job duties, promotions, and discipline, and who was eventually terminated because of her vocal opposition to these practices.
Zoraida also represents clients in other types of civil disputes and litigates those cases in state or federal court. She has helped clients secure successful settlements that appropriately compensated them for their injuries and medical expenses resulting from automobile and other accidents.
Prior Experience
Prior to joining Zalkind Duncan & Bernstein LLP, Zoraida worked with the Innocence Project of Minnesota (IPMN). With IPMN, she worked with a coalition of prosecutors, defense attorneys, state crime labs, and the trial courts in conducting a comprehensive review of state homicide and criminal sexual conduct convictions from 1981 to 1999 to determine whether any innocent defendants could be exonerated through current DNA testing technology. Before joining IPMN, Zoraida clerked for the Honorable Julian Abele Cook, Jr. in the U.S. District Court for the Eastern District of Michigan. At the University of Michigan Law School, Zoraida represented children and parents in the child welfare system as part of the Child Advocacy Law Clinic as well as low-income clients in family law matters at Essex-Newark Legal Services in Newark, New Jersey. Zoraida received the University of Michigan Law School's Dean's Public Interest Fellowship to work at the Texas Civil Rights Project, where she helped Texas residents vindicate their federal and state civil rights.
Zoraida is a native Spanish speaker.
Education
J.D., University of Michigan Law School, 2008
cum laude
B.A., Brown University, 2003
Bar & Court Admissions Commonwealth of Massachusetts
State of California
U.S. District Court, District of Massachusetts

Clerkship
Judge Julian Abele Cook, Jr., U.S. District Court, Eastern District of Michigan, 2008 - 2010
Professional Affiliations
Massachusetts Employment Lawyers Association
Boston Bar Association
Massachusetts Association of Criminal Defense Lawyers
Women's Bar Association