Monica R. Shah
Partner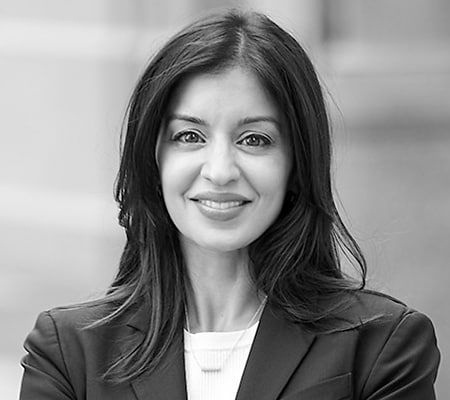 Introduction
My litigation practice focuses on criminal defense, employment, and Title IX matters. I handle complicated and highly contested cases from the initial stages of investigation and discovery through trial and appeals. As your advocate, I will work tirelessly to protect your rights and achieve the best results for you.
Practice Focus
Criminal Defense
With a broad criminal defense practice that includes trial and appellate matters in both state and federal courts, I help individuals facing a full range of misdemeanor and felony charges. I represent people accused of murder, rape and sexual assault, drug possession and conspiracy, RICO violations, money laundering, obstruction of justice, bribery of a public official, tax fraud and other white-collar crimes, and handle foreign extraditions. My goal is always to achieve the best outcome for you by getting the charges reduced or dismissed altogether. As a federal Criminal Justice Act (CJA) panel member, I also represent indigent federal defendants in the Boston federal district courts.
With a long history of success, examples of how I have helped my clients include:
Served as co-counsel in a first-degree murder case where we were able to get the indictment dismissed because the prosecutor introduced highly prejudicial evidence to the grand jury.
Secured bail and a stay of extradition in a federal extradition case for a client facing attempted murder charges in the United Kingdom, a highly exceptional result given that bail and stays are rarely granted in extradition cases.
Served as co-counsel in a federal tax fraud case that went to trial and resulted in a below guideline sentence more favorable than the plea agreement offered to the defendant before trial.
Negotiated immunity agreement for a client facing criminal charges, protecting client from future prosecution.
Obtained other favorable non-incarcerative outcomes for clients resulting in dismissals, pretrial diversion, probation, or home detention.
Employment Law and Other Civil Rights
In my civil practice, I advocate for employees whose rights have been violated in the workplace in matters involving discrimination, sexual harassment, retaliation, FMLA, wage and hour laws, and whistleblower protection laws. In addition to providing counsel, when necessary, I will litigate for you in state and federal courts, and before the Massachusetts Commission Against Discrimination (MCAD) and the U.S. Equal Employment Opportunity Commission (EEOC).
I also review executive contracts and negotiate separation or severance agreements, including advising on complex issues such as non-compete provisions, trade secrets, and stock option transfers. Executives and professionals from all walks of life turn to me for assistance, including in the finance, law, higher education, government, marketing/advertising, healthcare, and biotech industries. Additionally, physicians, nurses, physical therapists, and other licensed professionals often ask me to represent them in licensing board proceedings and hearings.
My creative legal thinking and aggressive approach have resulted in substantial court victories and settlements, such as the following:
Won a nearly $10.9 million verdict at trial for a longtime employee of the City of Boston who experienced race discrimination and retaliation; successfully defended the verdict in the appeals court.
Won an appeal of a Superior Court's decision to dismiss on summary judgment a city employee's race discrimination case, resulting in a favorable settlement for the client.
Won a significant summary judgment decision on contract and defamation claims in Superior Court on behalf of a Harvard professor who was unlawfully denied tenure.
Served as lead counsel and successfully litigated and settled multiple cases against major universities and institutions where I represented clients who had experienced gender discrimination and sexual harassment.
Secured a client's reinstatement to a promoted position and a significant monetary settlement against the Department of Correction for gender discrimination, equal pay, wage and hour, disability, and FMLA claims.
Obtained numerous significant settlements in discrimination matters in both state and federal cases, including on behalf of sexual harassment victims with claims of quid pro quo harassment or sexually hostile work environments.
Applying my strong litigation skills, I also handle a variety of other civil matters, such as representing both individuals and corporations in a wide range of business disputes.
Student Rights & Title IX
I am passionate about helping students at colleges and universities around the country resolve disciplinary actions related to academic misconduct, sexual assault, and sexual harassment. With my counsel, both complainants and respondents have successfully navigated the often-confusing disciplinary procedures at their institutions, including Title IX investigations and hearings. Examples of recent victories include:
Represented undergraduate student who was sexually assaulted in Title IX proceedings, resulting in findings of responsibility against the assailant.
Represented an undergraduate student accused of sexual assault in Title IX proceedings, resulting in a finding of no responsibility.
Appealed finding of responsibility for sexual assault against female undergraduate student, resulting in reduced sanction from expulsion to suspension and removing finding from her record following suspension.
Served as lead counsel in federal litigation where we successfully obtained a preliminary injunction against a university preventing it from expelling undergraduate student.
Prior Experience
Prior to joining Zalkind, I was an associate at the firm Neufeld, Scheck & Brustin, LLP, where I helped secure significant verdicts and settlements for victims of wrongful convictions and police misconduct in civil rights actions filed in federal and state courts around the country. Prior to that, I interned at several civil rights and indigent defender organizations, including the Asian American Legal Defense & Education Fund, Neighborhood Defender Services of Harlem, and the NAACP Legal Defense & Educational Fund. Before becoming a lawyer, I was an associate consultant in Bain & Company's Boston and New York offices.
Accolades
Best Lawyers in America

­
Lawyer of the Year for Employment Law – Individuals (2024)
­
Criminal Defense – White-Collar (2019-present)
­
Employment Law – Individuals (2019-present)

Super Lawyers

­
Criminal Defense (2020-present)
Rising Stars, Massachusetts (2016)

Top Women of Law, Massachusetts Lawyers Weekly (2018)
Martindale-Hubbell, Highest Possible Rating – AV Preeminent® (2016 to the present)
Professional Activities
Provides pro bono legal counsel through the American Civil Liberties Union of Massachusetts, the National Lawyers Guild, and Lawyers for Civil Rights
Co-Chair, Amicus Committee for the Massachusetts Employment Lawyers Association
Member, Board of Directors and Executive Committee of Lawyers for Civil Rights
Member, Board of Directors of Cradles to Crayons, a Boston-based organization that provides essential clothing, books, and toys for low-income children
Member, Advisory Board of the Center for Law, Brain & Behavior
Member, South Asian Bar Association
Member, Women of Color Committee, Women's Bar Association
Member, Women's White Collar Criminal Defense Association
Member, the Massachusetts Association of Criminal Defense Lawyers
Member, National Employment Lawyers Association
Member, Boston Bar Association
Speaking & Publishing
Lead author, "Preventing & Handling Sexual Harassment Claims in the #MeToo Era," Massachusetts Continuing Legal Education, Inc. (MCLE) Guide
Presenter on Title IX topics, Boston Bar Association
Presenter on employment law topics, MCLE and Massachusetts Bar Association
Presenter on employment law topics, South Asian Bar Association's renowned Know Your Rights program, which provides legal information to communities in the greater Boston area
Why I Became a Lawyer
I became a lawyer after observing the discrimination faced by the South Asian community in New York after the 9/11 terror attacks. I developed my passion for law while working to defend and advocate for people who faced serious injustices that resulted in unfair criminal convictions or other losses of their civil liberties. I have learned through those experiences that empathy, creativity, and hard work can lead to positive outcomes for my clients.
Education
J.D., Columbia Law School, 2005

Harlan Fiske Stone Scholar
Articles Editor, Columbia Law Review
B.A., University of Pennsylvania, cum laude, 2000
Bar & Court Admissions Commonwealth of Massachusetts
State of New York
U.S. District Court, District of Massachusetts
U.S. District Court, Eastern District of New York
U.S. District Court, Western District of New York
U.S. Court of Appeals, First Circuit
U.S. Court of Appeals, Second Circuit
U.S. Court of Appeals, Ninth Circuit
U.S. Court of Appeals, Tenth Circuit

Clerkship
Judge Allyne R. Ross, U.S. District Court for the Eastern District of New York (2005-2006)