Naomi R. Shatz
Partner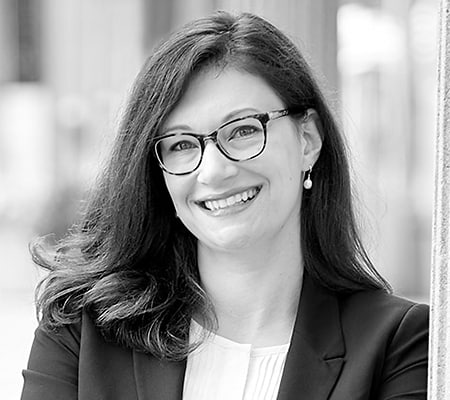 Introduction
My practice is dedicated to protecting the rights of students, faculty, and employees. I represent students at all levels of education from elementary to graduate school who experience discrimination or are involved in disciplinary proceedings. In my employment practice, I counsel and represent employees in negotiations, administrative proceedings, and litigation against their employers.
Practice Focus
Student Rights and Title IX
With a national reputation in Title IX law, I represent students, staff, and professors who are either accused or have been the victim of sexual assault and sexual harassment on campus. My experience in both higher education and employment law makes me uniquely suited to assist college and university graduate students, faculty, and staff who may be entitled to protection under both employment and education laws addressing discrimination.
Combining creative legal thinking with a deep understanding of sexual harassment law and sexual assault issues, I will serve as your fearless advocate. I have counseled students making complaints of sexual assault and guided them through their school's complaint process, and have litigated Title IX claims on behalf of students who were subjected to hostile environments or deprived of access to their education because of sexual harassment or discrimination.
I have worked with numerous students accused of misconduct and served as their advisor in university disciplinary proceedings. In many instances, my clients have been found innocent of the charges against them. I have negotiated resolutions to complaints that protect my clients' academic records, and, when necessary, have taken my clients' claims to court.
Representative matters include:
Won multiple preliminary injunctions requiring clients' schools to readmit them after they had improperly expelled the clients for sexual misconduct and other alleged disciplinary issues.
Represented numerous victims of sexual misconduct in Title IX proceedings at their schools, winning their cases and ensuring that they were able to continue their education in a safe environment.
Negotiated a substantial settlement on behalf of a female graduate student at a major university shortly before a trial in a gender discrimination case.
Negotiated a substantial settlement on behalf of a university staff member who was sexually harassed by her boss.
Assisted numerous clients accused of sexual assault who were found not responsible by their schools, and helped my clients successfully defend those decisions on appeal.
Negotiated a substantial settlement on behalf of a graduate student at a local university in a race and national origin discrimination case.
Negotiated a settlement for a high school student who was harassed and then assaulted at school by her ex-boyfriend.
Employment and Other Civil Rights
Applying my knowledge of discrimination issues to my employment practice, I represent individuals who face discrimination and retaliation in the workplace based on their race, age, gender, disability, or sexual orientation. I frequently represent university employees, including professors, staff, and graduate students, and help them assert their rights under both employment and education laws, and in research misconduct proceedings. I have helped numerous clients negotiate separation from their employers and obtain favorable severance packages. I routinely litigate employment cases at the Massachusetts Commission Against Discrimination (MCAD), and in state and federal court. In addition to employment cases, I also represent clients in complex civil matters.
Representative matters include:
Obtained a settlement for a professor raising a First Amendment challenge to his University's decision to terminate his employment.
Obtained a high six-figure settlement for a client with claims under the Massachusetts Paid Family and Medical Leave law (PFML) who was terminated the day she returned from maternity leave.
Secured a client's reinstatement to a position to which she had been promoted and obtained a significant monetary settlement against the Department of Correction for gender discrimination, equal pay, wage and hour, disability, and FMLA claims.
Represented a client in a federal case before the First Circuit Court of Appeals against the Transportation Security Administration. The suit alleged that the TSA's invasive whole-body pat-down procedures violate traveler's Fourth Amendment Rights and discriminate against travelers who have disabilities that require them to have metal joint implants.
Represented a news reporter in a First Amendment case when he was banned from a regional airport and public meetings related to the airport. We successfully negotiated a settlement that restored his access to the airport and public meetings.
Successfully argued dispositive motions, winning motions to dismiss, and motions for summary judgment.
I also handle appeals to the Massachusetts and federal appellate courts, and write amicus briefs on issues relating to my practice.
Prior Experience
Prior to joining Zalkind, I was a Skadden Fellow and a staff attorney with the New York Civil Liberties Union (NYCLU). In this role, I represented one of the first students in the country alleging discrimination by his school in violation of Title IX for ignoring his complaints of harassment by other students based on a failure to conform to gender stereotypes. I helped this client secure a settlement wherein the school district not only compensated the student but agreed to overhaul its policies and practices for preventing and addressing harassment of students. I also represented New York City public school students in a class-action suit challenging police practices in the schools.
Professional Activities
Member, Massachusetts Employment Lawyers Association
Member, Women's Bar Association of Massachusetts
Speaking & Publishing Accolades
Best Lawyers in America

Education Law (2023)
Employment Law: Individuals (2023)
Litigation: Labor and Employment (2023)
Criminal Defense: General Practice (2023)

Super Lawyers

Schools & Education, Employment & Labor: Employee, Employment Litigation: Plaintiff, Civil Litigation: Plaintiff (2023)
Rising Stars, Massachusetts (2016 to 2022)

Women Leadership Initiative, Women's Bar Association (Class of 2020)
Massachusetts Lawyers Weekly, Excellence in the Law: Up & Coming Lawyer (2018)
Why I Became a Lawyer
My desire for a career that helped advance gender equity led me to law school, where I worked in women's rights organizations and legal clinics that focused on women's rights in the U.S. and abroad. Through my work on dating violence, sexual harassment, and school-to-prison pipeline issues in New York high schools, I developed a passion for student rights and learned how my individual clients' cases fit in to bigger picture legal advocacy. Those experiences taught me how to use my deep understanding of anti-discrimination, Title IX, and student rights law to create legal strategies that achieve my clients' goals.
Education
J.D., Yale Law School, 2008

Managing Editor, Yale Journal of Law and Feminism
Editor, Yale Human Rights & Development Law Journal
Chair, Law Students for Reproductive Justice
Co-Founder, Yale's Domestic Violence Clinic
B.A., Barnard College, summa cum laude, 2004
Phi Beta Kappa
Bar & Court Admissions Commonwealth of Massachusetts
State of New York
U.S. Court of Appeals, First Circuit
U.S. Court of Appeals, Second Circuit
U.S. District Court, District of Massachusetts
U.S. District Court, Eastern District of New York
U.S. District Court, Southern District of New York

Clerkship
Justice Ralph D. Gants, Massachusetts Supreme Judicial Court (2011-2012)