Norman Zalkind
Founder and Of-Counsel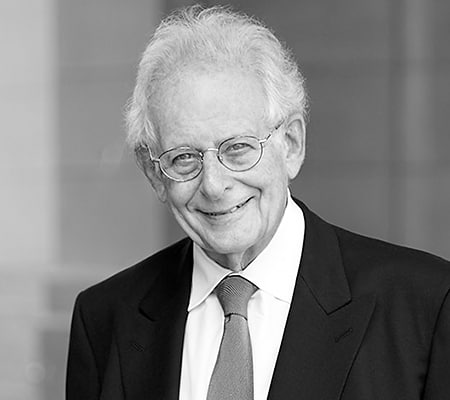 Introduction
As the founding partner of the firm, I have dedicated my legal career to helping people preserve their freedom, often in the face of daunting circumstances. My practice focuses on criminal defense, including murder, white-collar crime, and other serious felony cases in federal and state courts across the United States but particularly in Massachusetts. I also have a nationwide practice representing students accused of sexual assault and other disciplinary misconduct. My civil practice includes business litigation. With a reputation for a willingness to "go to the edge" for clients, I have tried over 130 cases before a jury, including many high-profile cases.
Practice Focus
Criminal Defense
As a tireless champion for the rights of the accused, I am passionate about giving you the best defense possible. My criminal defense experience spans a wide range of offenses, such as murder/death penalty cases, drug crimes, terrorism, extortion, bank robbery, sex crimes, tax evasion, arson, telemarketing fraud, and Medicaid and securities fraud. I practice in both state and federal courts and handle cases involving all felony and misdemeanor offenses, as well as related matters like federal extradition.
In trying the most serious criminal and white-collar crime cases, I have a long history of success. The majority of my clients have been either completely acquitted or received substantially reduced sentences. I have also won appeals in murder cases and am experienced at preserving the issues at trial that allow defendants to successfully appeal if convicted. A few examples of client victories include:
Obtained an acquittal of all charges for a man accused of first-degree murder, where the prosecution's case included an alleged eyewitness to the crime.
Twice obtained not guilty verdicts for clients asserting insanity defenses, even though such cases are notoriously difficult to win.
Convinced prosecutors to reduce charges and to allow clients to plead to manslaughter, which avoids the risk of life imprisonment.
Obtained a dismissal in an armed robbery and kidnapping case, and a continuance without a finding in a serious sex crimes case.
Obtained a not guilty verdict in a case in which a client was charged with telemarketing fraud.
Obtained a not guilty verdict in a major federal racketeering case involving the alleged assassin in multiple gang-related shootings.
Obtained a not guilty verdict in a federal tax case against a CEO.
I have represented hundreds of defendants charged with drug crimes involving multiple tons of illegal drugs, and have won multiple motions to suppress evidence and secured reduced sentences for clients facing decades in prison.
Similarly, I have achieved excellent results for clients in plea negotiations, including for:
The lead defendant in a multi-defendant federal drug case, who received a five-year sentence even though the relevant sentencing guideline called for 210 to 260 months in prison.
A client facing federal Medicaid fraud charges involving $20 million, where I obtained a probationary sentence on the eve of trial.
A client facing federal immigration fraud charges that would normally lead to incarceration, where I successfully negotiated for probation for the client.
Student Rights
I bring my wealth of criminal law experience to representing students and faculty accused of misconduct on campus, including plagiarism, cheating on tests, sexual assault, and even embezzlement.
I have handled numerous cases for students facing sexual assault charges, during internal college and university investigations and disciplinary proceedings as well as in the criminal justice system. With a strategic approach, I craft an individual strategy for each case that considers the factual allegations, the relationship between the students involved, and the disciplinary policies and procedures of the college or university.
I have worked on many cases where the student has been cleared of wrongdoing or received reduced sanctions, including the following:
Helped an undergraduate prepare for a hearing in a sexual assault case – including preparing a written statement and teaching the student how to cross-examine witnesses – after which the student was found not responsible for assault.
Assisted a student accused of theft and demonstrated to the university's general counsel that the school did not have proof to support its case. The school came to the same conclusion, finding the student not responsible for theft.
Worked with a student charged with academic dishonesty to craft a memorandum accepting responsibility for the action, and by highlighting mitigating issues, we were able to keep the sanction to a minimum.
Civil Litigation
I have represented plaintiffs and defendants in discrimination, libel, divorce, and business litigation cases, including securities litigation. Examples of success include:
Won a favorable settlement for a client involved in a complicated commercial litigation dispute, after taking the case to arbitration.
Won a $7.6 million verdict in a discrimination and retaliation case against the MBTA.
Professional Activities
Member, Massachusetts Association of Criminal Defense Lawyers
Member, National Association of Criminal Defense Lawyers
Member, Boston Bar Association
Speaking & Publishing
Adjunct professor, criminal trial practice, Northeastern University Law School (1971 – 1987)
Lecturer, Harvard Law School, Boston University School of Law, and Yale Law School
Accolades
Best Lawyers in America

Criminal Defense: General Practice (1993 to the present)
Criminal Defense: White-Collar (1993 to the present)

Listed The Best Lawyers in America 2023 edition for Criminal defense general practice, and Criminal defense White Collar
Super Lawyers

Criminal Defense (2004 to the present)

Super Lawyer Criminal Defense 2022
Martindale Attorney Awards AV Preeminent 2022
Martindale-Hubbell, Highest Possible Rating – AV Preeminent®
Balliro Award, Massachusetts Association of Criminal Defense Lawyers (2013)
Champion of Liberty Award, National Association of Criminal Defense Lawyers (1989)
Boston Magazine Award listed Top Lawyer 2021 criminal defense.
Recognized by Marquis Who's who for excellence in law 2021
Why I Became a Lawyer
I was a successful salesman as I worked my way through college and law school. Despite having a future in the business world, I decided to become a lawyer so that I could use my skills to help others. When I became a lawyer, I quickly discovered my gift was trying cases, particularly criminal cases. There is no better sound in the world than hearing a jury say, "not guilty." Being a trial lawyer is a great way to never stop learning.
Education
J.D., Boston University Law School, 1963
B.A., Boston College, 1960
Bar and Court Admissions Commonwealth of Massachusetts
U.S. Supreme Court
U.S. Court of Appeals, First Circuit
U.S. Court of Appeals, Second Circuit
U.S. District Court, District of Massachusetts