Ana Isabel Muñoz
Associate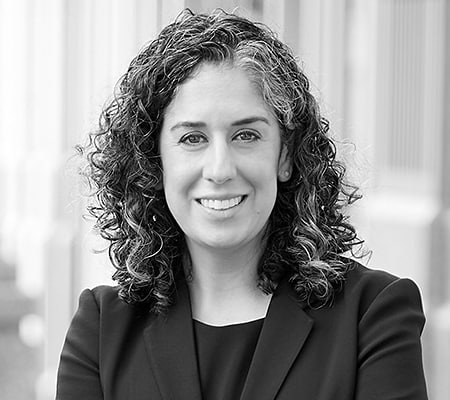 Introduction
I am passionate about legal analysis and defending individuals facing difficult circumstances. I have extensive experience wrestling with the thorny legal questions that can often decide the outcome of the case, and represent clients in employment, criminal, and civil cases.
For individuals and groups who speak English as a second language, Spanish-speaking lawyers are essential for representation in legal matters. As a bilingual lawyer, I am ready to assist you in both English and Spanish.
Yo hablo español y tendria mucho gusto de servirle a clientes que hablen español.
Practice Focus
Complex Civil Litigation
I have a varied civil litigation practice in both state and federal courts, spanning the United States Supreme Court, First Circuit, Second Circuit, Third Circuit, D.C. Circuit, and New York Appellate Division among others. I tackle cutting-edge issues, including complex questions regarding Massachusetts' Anti-SLAPP statute and the Massachusetts Civil Rights Act. I have authored amicus briefs for civil rights groups and legal academics, including on behalf of administrative law professors arguing for respect for federalism in Chevron cases.
I have worked on some of the most significant legal issues of our time and managed a broad civil and criminal docket. Some of the highlights include:
Successfully resisted a motion to compel arbitration in a federal case involving multiple defendants and novel civil rights claims.
Won dismissal of a complaint in a federal trade secrets case turning on dispute about the court's personal jurisdiction.
Defeated motion to dismiss in state wage and hour litigation that raised issue of the meaning of "employer" under the statute.
Part of team that defeated motion to dismiss in a case about the breadth of the Massachusetts Civil Rights Act.
Briefed and argued an appeal before the Third Circuit that resulted in a precedent-setting decision for civil rights cases that raise issues of qualified immunity.
Served as counsel to a coalition crafting legislation to create a civilian complaint review board in Newark, where I advised my client on the reach and limits of cities' power under state and federal law and helped the client to craft legislation creating the most powerful civilian accountability board in the country.
Employment Law
My litigation skills, combined with a passion for advocacy, enable me to achieve positive results for clients in a wide array of employment matters, including before the Massachusetts Commission Against Discrimination (MCAD), and in state and federal courts. I also have experience with arbitration proceedings, as well as with fighting mandatory arbitration. I have successfully defended employees in both non-compete and trade secret cases, and have negotiated large awards for clients, including in cases with novel legal questions. I also have experience fighting non-compete agreements and other covenants that restrict employee mobility.
Criminal Defense
I bring the same skills and passion to my criminal defense practice. I represent clients in state and federal courts in matters including property crimes, drug charges, and assault cases. In one recent case, I convinced a court to dismiss the criminal charges against my client before motion practice had even begun.
Prior Experience
Prior to joining the firm, I was a John J. Gibbons Fellow in Public Interest & Constitutional Law at Gibbons P.C. in New Jersey. Before that, I clerked for three years on the federal district court and federal appeals court. Prior to those clerkships, my work focused primarily on immigrants' rights.
As a Yale Public Interest Fellow at the Bronx Defenders, I was responsible for advising immigrant clients on plea offers in criminal cases, challenging unlawful detainers, and representing clients in removal proceedings. During law school, I was part of a team that represented a group of immigrants who were unlawfully detained after a warrantless early morning sweep of their neighborhood. The suit ended in what was at the time the largest monetary settlement ever paid by the United States in a suit over residential immigration raids, and the first to include both compensation and immigration relief. I also worked extensively on voting rights and voter protection issues, including as a researcher and organizer at the Brennan Center for Justice.
Professional Activities
Member, Women's Bar Association
Selection Panelist, Paul and Daisy Soros Fellowship
Accolades
Super Lawyers

Rising Stars (2018 to the present)
Why I Became a Lawyer
I became a lawyer because I care about people. I want every client to have an advocate who combines rigorous analysis of the legal issues they confront with understanding about how hard litigation can be for the people involved. In my practice, I do not shy away from challenges or powerful opponents, and always use my client's goals as my compass for navigating through any dispute.
Education
J.D., Yale Law School, 2010

Yale Public Interest Fellow at the Bronx Defenders
B.A., Yale College, with distinction, 2004
Bar & Court Admissions Commonwealth of Massachusetts
State of New York
State of New Jersey
U.S. Court of Appeals, First Circuit
U.S. Court of Appeals, Second Circuit
U.S. Court of Appeals, Third Circuit
U.S. District Court, District of Massachusetts
U.S. District Court, Southern District of New York
U.S. District Court, District of New Jersey

Clerkships
Judge Gerard Lynch, United States Court of Appeals for the Second Circuit (2013-2014)
Judge Stefan R. Underhill, United States District Court of Connecticut (2011-2013)